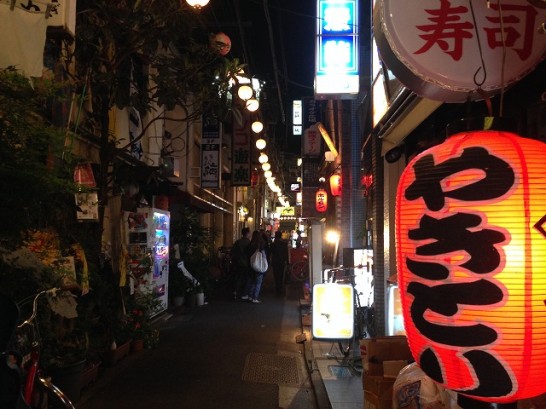 Place with many izakaya is called "nomiya-gai" (nomiya means pubs, gai means town).
It's located in back-alleys, small izayaka gathers with red lamp called "aka chochin" (aka means red, chochin means Japanese lamp).
こちらは飲み屋街です。
路地裏のようなところに位置し、小さな規模の居酒屋が多く集まっていて大変賑わっています。赤ちょうちんがトレードマークです。
Today we came to "Yakitori Isogen".
They have been running izakaya for approximately 40 years.
本日はこちらの「焼き鳥いそげん」さんにきました。
創業、約40年と大変歴史のある人気店です。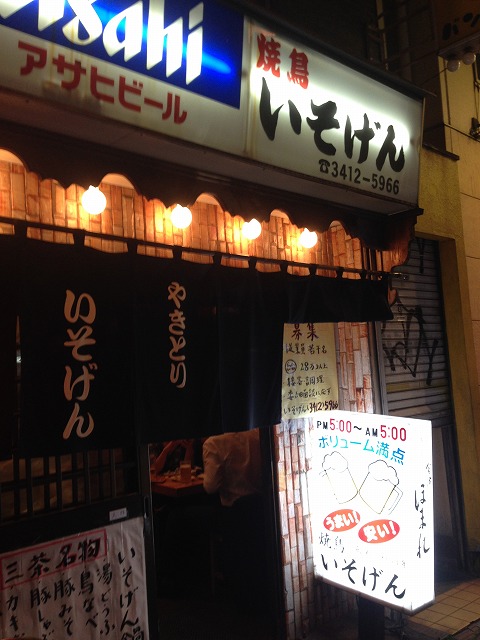 Let's go inside.
外観です。
This is how the inside looks like.
Today is weekend so it's very crowded.
店内の様子です。この日は週末でしたので、非常に多くの人々で賑わっております。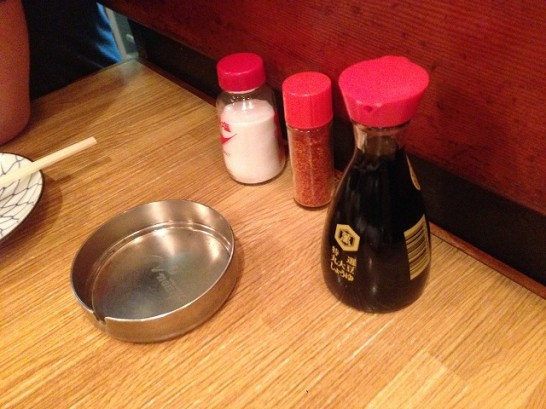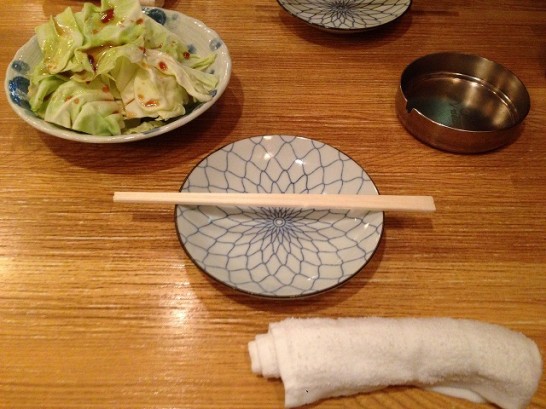 You will get a wet towel to wipe your hands before starting your food.
Plates, chopsticks, soy sauce, salt and Japanese pepper called shichimi are set on table.
And then "otoshi" will be served first, it's a small dish appetizer which always be served when you sit at table.
Today's otoshi was raw cabbage with sauce.
For those of you who are not familiar with this menu, raw cabbage is very common otoshi menu in izakaya.
It goes well with any kinds of seasonings.
席につくと、おしぼりが渡されます。テーブルには皿、お箸、しょうゆ、七味が置いてあります。そしてお通しが出されます。この日はキャベツでした。
This is drink menu.
こちらはお酒のメニューです。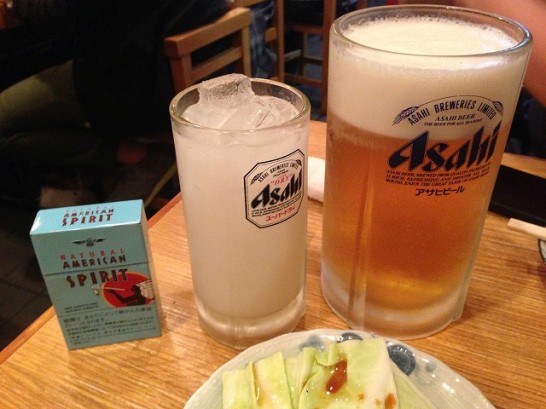 Here they have beer, shochu, sake, soda and whiskeys.
If you prefer non-alcohol drinks, they are available too.
基本的なビール、焼酎や日本酒、サワーやウイスキーなどもあります。
お酒な苦手な方は、お茶やコーラなどを頼むといいでしょう。
This is food menu.
There are various kinds of menu, popular menus are tofu, Japanese pickles oshinko, potato salad, stir-fried meat and vegetables, grilled chicken called yakitori, rice balls, udon.
こちらは食事のメニューです。非常に種類が豊富なので、代表的なものだけをご紹介すると、豆腐、おしんこ、ポテトサラダ、肉野菜炒め、焼き鳥、おにぎり、うどんなどがあります。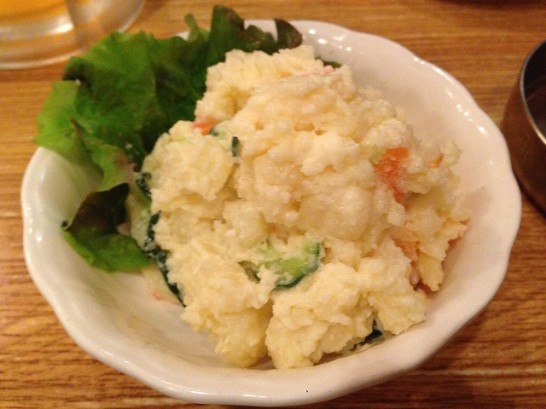 This is potato salad. You mush boiled potatoes and mix with vegetables and mayonnaise.
こちらはポテトサラダです。火を通したじゃがいをマヨネーズで和え野菜で絡めたサラダで、大変美味しいです。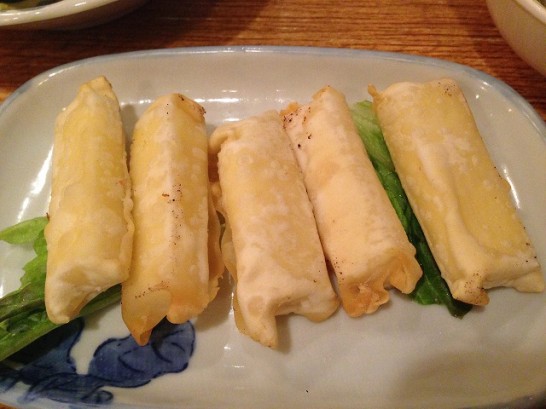 This is deep fried cheese.
こちらはチーズあげ。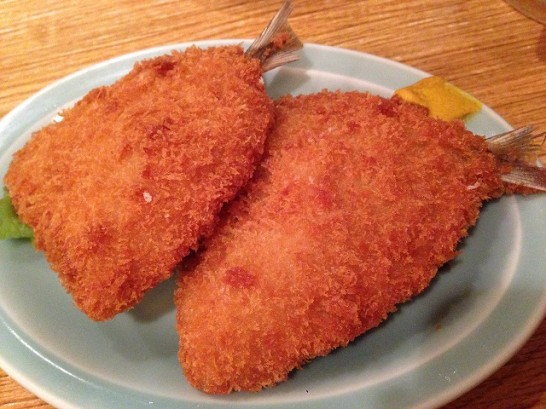 This is deep fried fish.
こちらはアジフライ。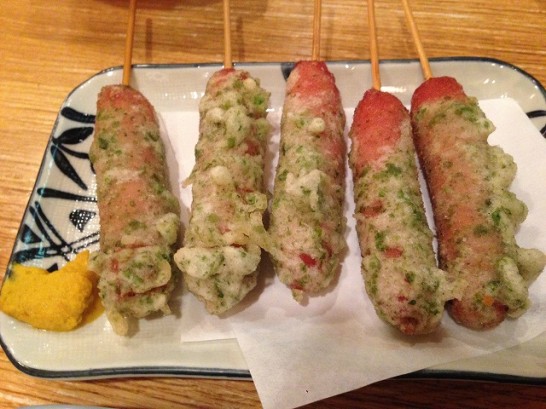 Sausage on stick.
ウインナー串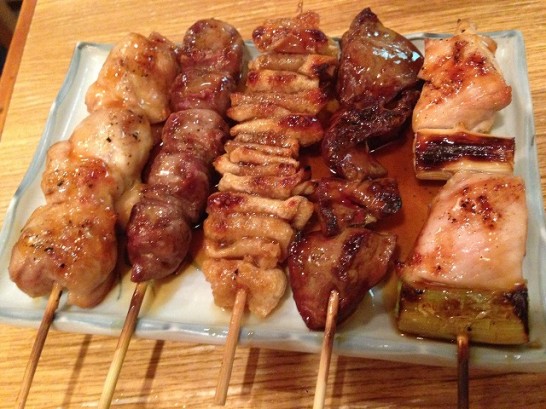 This is grilled chicken called yakitori, yaki means to grill and tori is chicken.
There are various kinds of chicken like leg, skin.
Usually you can choose whether you want to have it with salt or sauce.
こちらは焼き鳥です。
日本人は焼き鳥を好んでよく食べます。ももやかわなど様々な種類をたれや塩で食べます。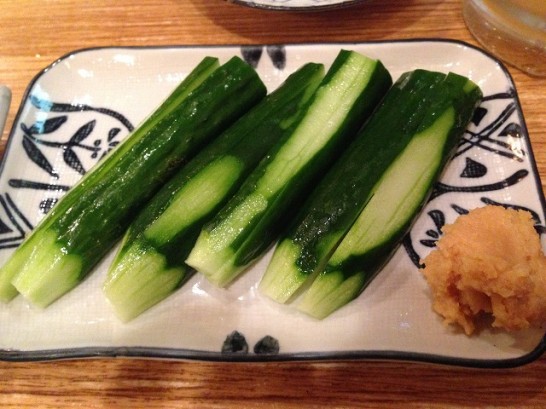 Fresh cucumber matches very well with miso, bean paste.
こちらはきゅうりです。歯ごたえのある新鮮なきゅうりを味噌をつけて頂きます。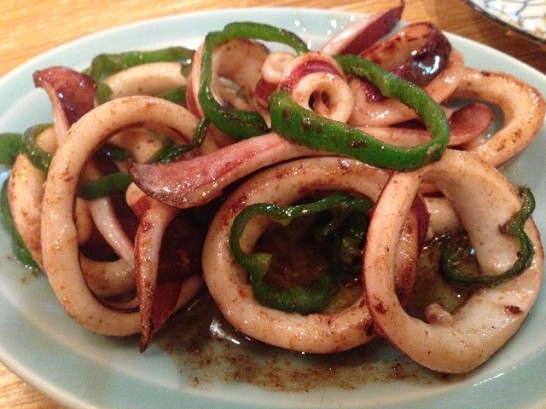 This is stir-fried squid. It is tasted with soy sauce, very simple but very addictive!
こちらはイカ炒めです。醤油ベースの味付けで病みつきになります。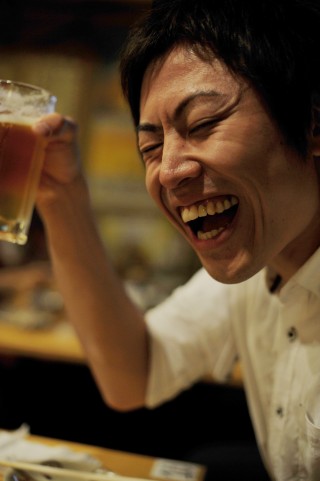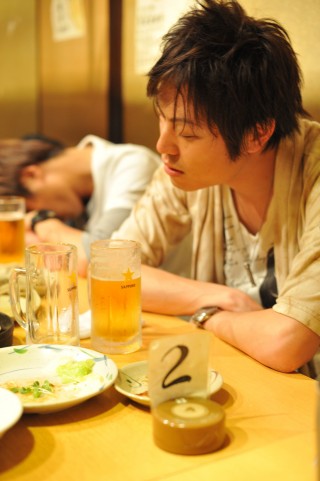 Not always positive meaning but Japanese works very hard and get stressed a lot.
Drinks with colleagues at izakaya make you feel refreshed!
Izakaya gives you power to work hard again from the next day.
日本人はよく働きますが、もちろんストレスも溜まります。そんな時は同僚と居酒屋へいってお酒を飲みます。愚痴を言い合ってすっきりし、また明日からの仕事を頑張ることが出来るのです。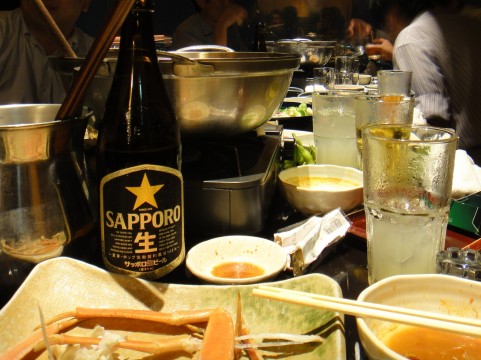 Why don't you try izakaya? I know you would love it!
あなたも日本へ来たら是非居酒屋へ行ってみてください。